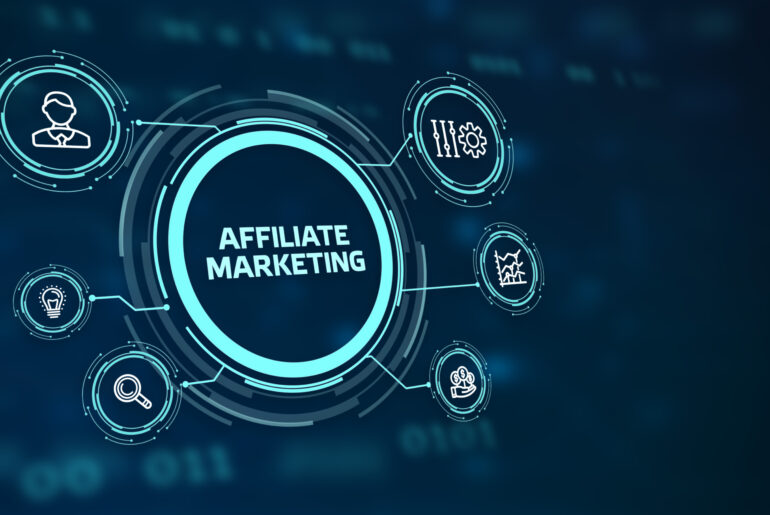 Is affiliate marketing a suitable marketing strategy for eCommerce stores? This is the question that many businesses ask when they first learn about Affiliate marketing and want to make it a better way for their business.
As if I were in your shoes, we try to find answers by looking deeper into the business efficiency. It is not necessary to establish an Affiliate program. However, affiliate marketing can make your problems easier and more manageable. It may seem confusing, but let's see why.
Affiliate Marketing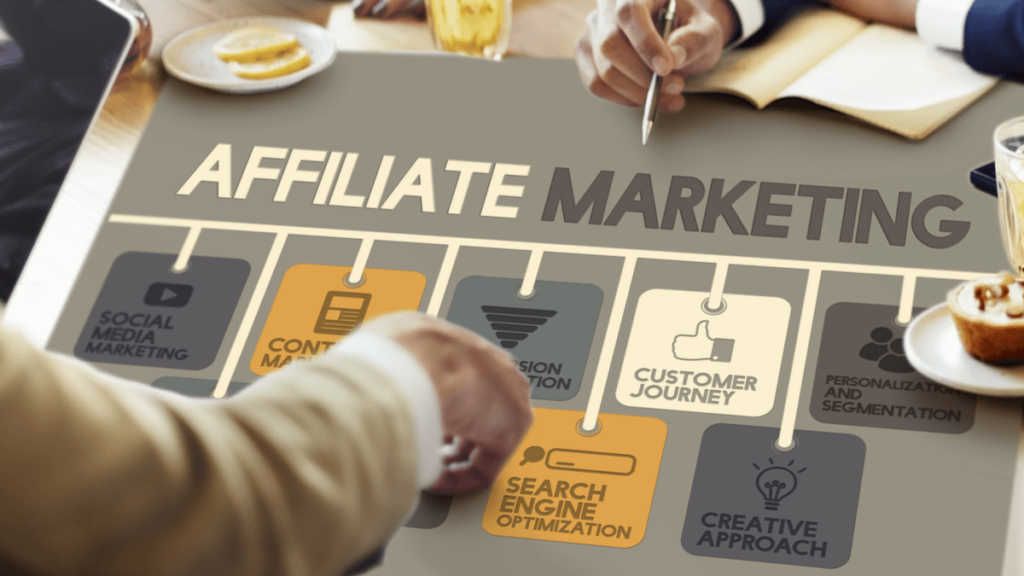 Affiliate marketing is where independent marketers or affiliates promote products and services of brands in return for commissions.
They will receive a share of any website visitor, sale or lead that they generate. The number of affiliates that can participate in an affiliate program for a brand is limitless from the standpoint of businesses.
The traditional model for an affiliate program includes 4 parties.
Advertisers or Affiliates : They will use their own methods to get potential buyers to click on the link, complete a form, and make a purchase. They will be paid a commission on each sale.
Customers are the determining factor in any affiliate program's success. They are the result of affiliate marketing efforts. Every consumer that is successfully converted contributes towards the final commission earned by the affiliate.
Merchants or product creators are those who create or provide products or services
Network is the bridge between affiliates and brands. It usually takes the form of an online platform that merchants and affiliates can use to connect with each other and find the right partners.
This traditional model is now The agencies to address the eCommerce merchants' needs.
They are responsible for monitoring all aspects of the affiliate program.
Find the right affiliate partners to help your brand
Negotiate with affiliates on behalf of merchants to receive a commission that is accepted by both parties
Measuring the performance of affiliate programmes
Networks are online platforms that allow for the participation of multiple brands and affiliates. Agencies are experts in supporting brands to start successful affiliate programs.
6 Advantages of Affiliate Marketing in eCommerce Business
A powerful affiliate program relies on long-lasting relationships between two of the most important parties: the brand and its affiliates.
Affiliate marketing can be a highly profitable channel for sales, increasing sales and brand awareness. Affiliate marketing is a great way to make a profit.
Partnering with experts or influencers who are similar to the merchant's core audience can result in multiple leads, traffic and sales.
Affiliate marketing works 24/7, unlike the in-house sales team.
When they work well together, affiliates and sales teams can make a powerful combination. Affiliates can increase the interest of consumers in most cases (cold traffic, leads). These leads are nurtured and converted by the sales team.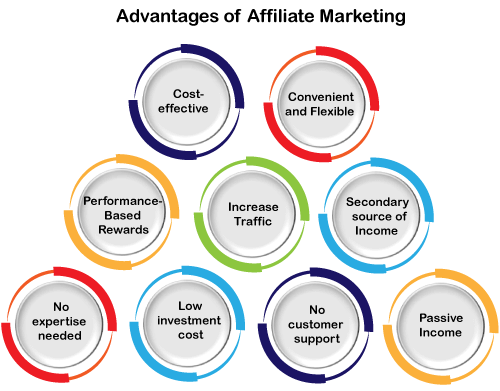 Cost-Effective
Win-win relationships are the key to creating value. Affiliate marketing is an effective marketing strategy that can be cost-effective.
Why?

 

Let's look at it from three angles.
Affiliate marketers do most of the marketing activities. Affiliate marketers are responsible for the bulk of the associated costs.
Affiliate marketing is commission-based. Affiliates are only responsible for the sales they generate.
This marketing tactic is much more cost-effective and affordable than paid advertising, which requires you to charge per click.
Lost cost is not only cost-effective, but also low risk. Affiliate commissions are only due when there is a conversion. This is why affiliate marketing is a good option for small businesses with limited budgets.
Steady-Sharing Competitive Advantage
Affiliate marketing has grown to be a very popular tool for global marketers. This makes it more competitive than ever for affiliates.
Another benefit is the possibility to reach new audiences. You can quickly reach new customers by offering popper deals to influencers in your niche.
Affiliates make money by promoting your products and company. You've widened your reach without putting in too much effort. The best part? You've gained trust and reputation among your audience.
Affiliates are available to help you learn
Each affiliate marketer uses their own marketing strategies and methods to promote the brand's products. The best affiliates bring back different marketing ideas that you can use in your company's workflows.
You can learn from the top publishers in your network about affiliate marketing:
Data about the audience of affiliates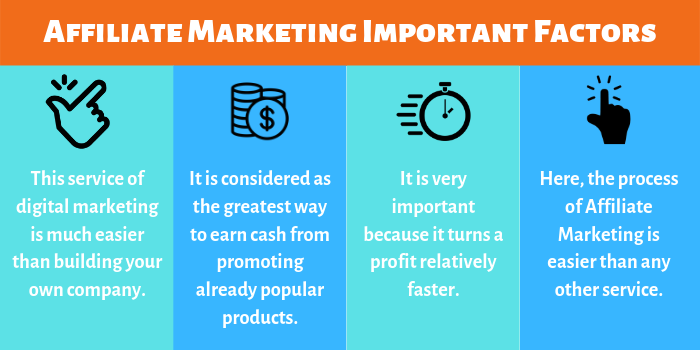 Their communication style with the audience
What they do to address the needs of their audience and how you can link them to your business's products/services
They use different channels to reach your target audience. Which one is most effective?
It is easy to track and manage the performance of affiliates
You can make better use of the data you get from affiliate programs by extracting more information. Two main components of affiliate marketing analytics are KPIs management, and performance analysis.
Here are some of the most important metrics you can and should track in your affiliate program
Revenue/ Return on Investment (ROI).
Orders and AOV (average order amount)
Clicks/ Impressions/ Leads
Affiliates' percentage of the earned commissions
Conversion rates
Cost per acquisition (CPA) for customers and affiliates
Customers and affiliates onboarding length
Customer lifetime value (LTV)
It is now easier than ever to track and analyze affiliate activities, especially with the help of the trackable links that businesses provide to program participants.
Affiliate Marketing brings in more profit than you might expect
Let's say your store is still in operation and you don't know anything about affiliate marketing. While you still sell products, you also make great efforts to promote your store to increase sales. Advertising is a way to give customers an opportunity to buy more.
Affiliate marketing, on the other hand, is a different solution. Go alone if you want to move fast. If you want to travel far, however, it is best to go with your friends. Affiliate Programs are a great way to build your sales force.
But, what is the motivation to make sure that Affiliates do their best work for you? How can you persuade customers to purchase from Affiliate's referrals? These questions highlight the benefits of Affiliate marketing. Referred visitors will get their favorite items at a significant discount, while the Affiliates will be paid a commission.
How do you build an Affiliate network?
It is essential to focus on the Affiliate network if you are going to be successful in Affiliate marketing. Three key points will be discussed in this article.
Promote Affiliate Program
I believe that increasing your reach for your Affiliate program is one of the best ways to attract as many affiliates as possible. This means you must promote your program. You can advertise your program on social media and place a popup banner advertising the Affiliate program for new registrations. Don't forget to use the available Affiliate channels from existing Affiliates to promote. It is easier to get new Affiliate members into your network if more people know about it.
Pick potential products for affiliate marketing
A business should have many products that can be used for affiliate marketing. Affiliate marketing programs are not possible with every product. Here are some features to consider when choosing the best affiliate products
High margin or high end
Scalable
Fit a specific niche
Trends are growing
Social traction
Virality can be shared
We recommend that you choose products that offer a compelling commission. This will benefit both the publisher and the brand. This will help you attract more affiliates.
Instead of trying to generate affiliate links for everything, focus your efforts on a single product and you will have more successful campaigns. You might consider reaching out to your top influencers first and then working together to select the products that are most likely for you.
Find the best Affiliates
A solid foundation can help you get more out of affiliate marketing and help you achieve your marketing goals. You must clearly define your goals and objectives in order to build an effective affiliate marketing plan.
How your industry operates
Your niche
This is the list of top publishers in the niche.
Look for affiliates who can bring the following qualities and resources to your table when searching:
Own high quality digital assets. The content on affiliate's websites and social media channels should appeal to your target audience, in both form AND function. Your brand image may be negatively affected if you use irrelevant or spammy digital assets.
Be consistent with your business focus. For example, if your product is makeup, it makes no sense to have a professional athlete as your affiliate.
Communicate well – You need to choose affiliates who have strong written and interpersonal communication skills and can effectively promote your brand.
Create a win-win partnership with Affiliates
For long-lasting success, a win-win partnership is essential. Affiliates receive commissions from the brand. Merchants, on the other hand pay affiliates to increase sales.
The profit is split between the affiliates and the brand. Affiliates will get more benefit if they promote your brand.
These are some tips to help you work with affiliates.
Make a habit of regularly measuring the performance of affiliates. This will allow you to reevaluate your partnerships with partners who are not performing well.
Top performers get a higher commission or free products and/or services.
To keep up with the marketing activities of your top affiliates and improve our partnership, schedule monthly or quarterly meetings
Use technology to promote affiliate marketing
This is when the Magento2 affiliate extension comes in to play. An affiliate extension allows you to perform many tasks in an affiliate system without any coding required.
Multiple affiliate programs can be set up with different commission tiers
Automate commission withdrawals using popular payment methods like PayPal, Bank Transfer, and offline payments
Promote affiliate links by displaying banners on publishers' pages
Keep track of transactions and the performance of all affiliates within your program
Affiliate Marketing: Is it necessary?
Although I stated that it was not necessary, I cannot deny its benefits. They are right there for you.
Online sales can be dramatically increased
You can keep most of your profits and only pay commissions to affiliates who help you directly.
Increase traffic to your website
Increase the number of potential customers
Your brand's approach should be extended
Be sure to manage your ads and affiliates well
Let's go back to the original question. While Affiliate marketing is not necessary to increase your revenue, it can help you reach your business goals quickly and easily. You will see that Affiliate Marketing fits in with your business goals by using the checklist.
The Takeaway
Affiliate marketing is, in summary, one of the best and most cost-effective investment options for eCommerce companies.
It can be difficult for startups and small businesses to attract high-quality affiliates to your program. It's easy to turn your affiliate program into a second income stream for your Magento store with proper implementation.